D. NAPIER & SON LTD – A Brief Introduction
EARLY DAYS
When David Napier moved to London in 1808 the Battle of Trafalgar had taken place just three years earlier!  In 1808 Richard Trevithick demonstrated his 'steam circus' just to the south of (the present day) Euston Square with his locomotive 'Catch-Me-Who-Can'.
Having arrived in London David started honing his skills working within the advanced engineering workshops of Henry Maudslay.  By 1815 he had moved on and was occupied as a Work's foreman near Fleet Street gaining experience in the printing trade centred there.  In 1817 he was the engineering partner in a stationer's business known as Messrs Baisler & Napier Engineers located in Lloyds Court, Soho.  David soon terminated the partnership and became self employed and moved to a larger workshop at 15 Lloyds Court, Crown Street in Soho.  Initially he specialised in the manufacture of a variety of machines for the printing industry.  In 1824 he developed a print perfecting machine encouraged and much praised by Mr Thomas Curzon Hansard of Hansard Press fame.  This machine David cleverly named the 'Nay-Peer'.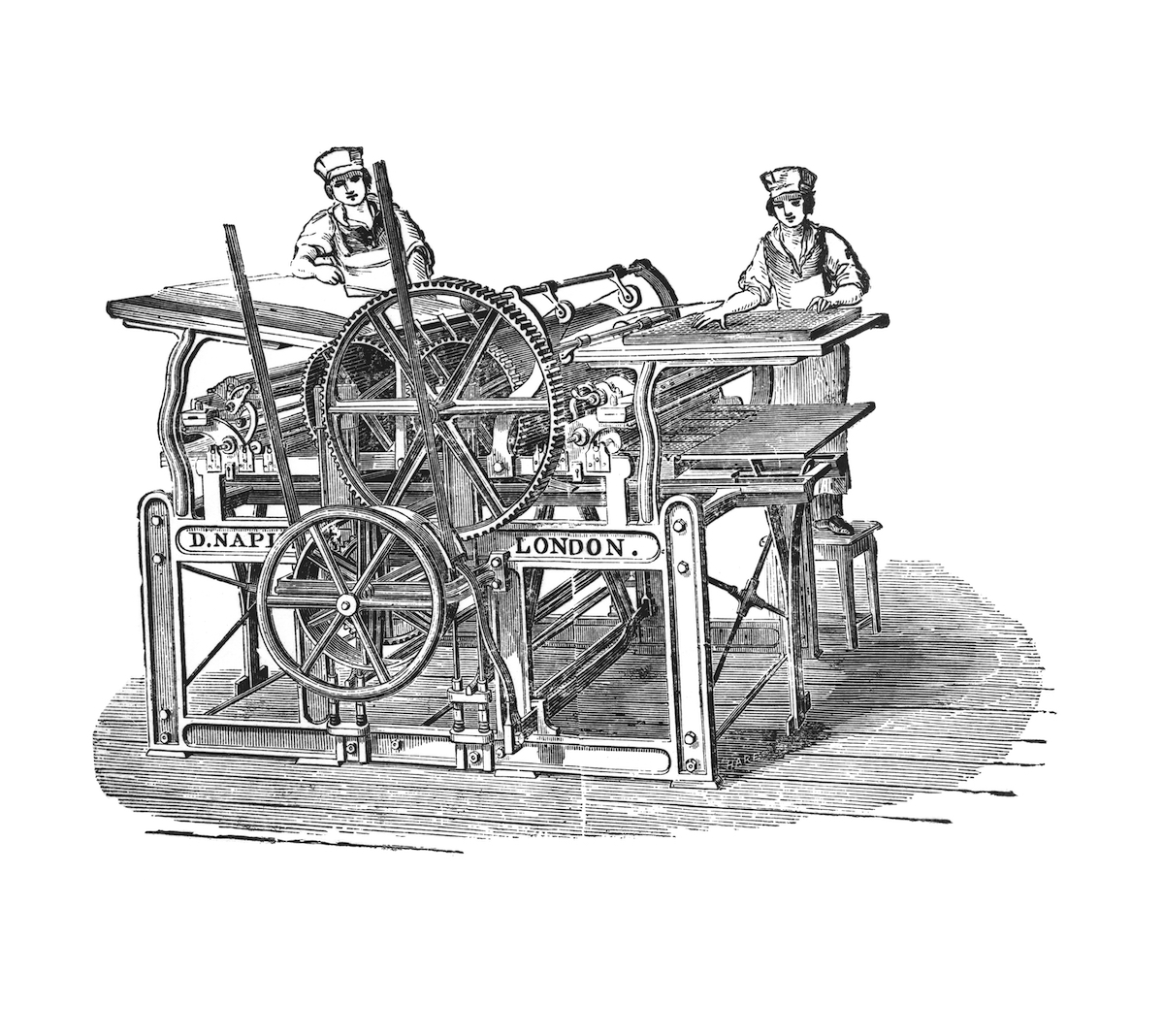 In March 1832 David moved to more spacious works south of the Thames in Lambeth.  His new residence was in York Road, Lambeth with his works entrance through a gateway off the narrow Vine Street.  David's reputation for precision engineering was becoming well known and he was approached by Royal Ordnance who had a problem.  Their lead bullets drifted from their trajectory missing their target.  On close inspection David discovered that cast lead bullets with tiny air pockets.  He was commissioned to produce bullets using a cold press method.  This he did completing his first machine in 1835 and supplying more to Greenwich and the Royal Enfield Rifle Company.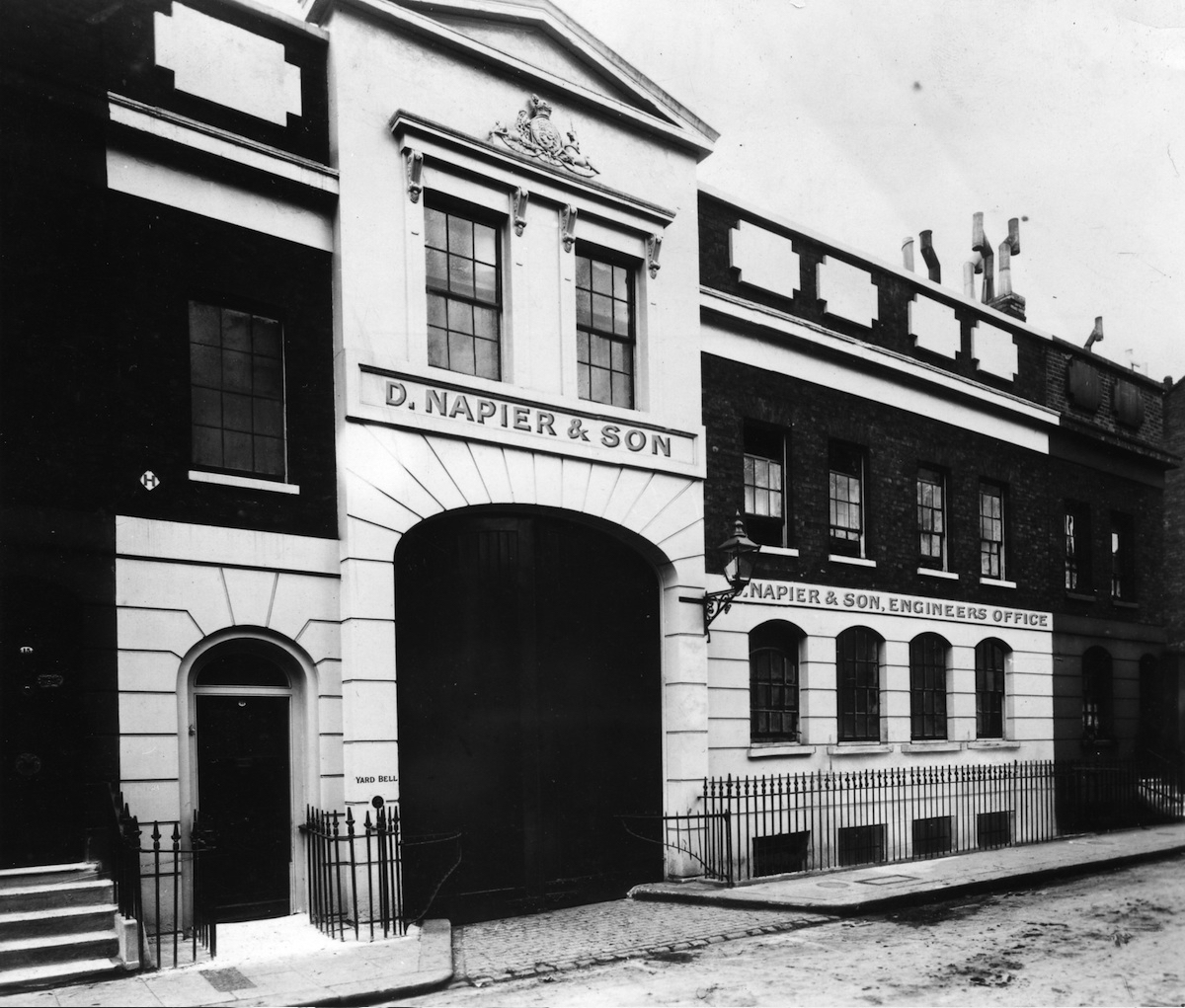 PARTNERSHIP
In 1834 David's son James Murdoch Napier joined the business and later became a partner in
1848, the company name changing to D. Napier and Son Limited. The company produced machines for bullet making, gun-boring and turning for a number of government arsenals, as well as coin-weighing machines for the Bank of England, two-cylinder printing presses (designed to print simultaneously on both sides of a sheet of paper). The machines were described as "delicate as any clock could be"; .
1873 After his father's death his son James specialised in beautifully crafted precision machinery for making coins for the Royal Mint and printing stamps and banknotes.
VEHICLES
In 1895 James Napier died leaving the business with only seven employees.  His son Montagu Napierbought the business from the executors. Undertook the improvement of a Panhard car of his friend Selwyn Francis Edge.  Edge was sufficiently impressed to encourage Napier to make his own car, agreeing to buy the entire output.
1900 The first car appeared. Napiers made the first ever production six cylinder car (at this time painted in olive green), many winning races
Won the 1902 Gordon Bennett Cup race in France.
1903 Production reached 250 cars, overwhelming the Lambeth factory, so a move was made to Acton, North West London.  This included a range of 18, 40, 50 and 60 HP models of car.
1905 Napiers expanded into marine engines as well, their 1905 boat Napier II setting the world water speed record for a mile at almost 30 knots.
On 29th August 1906 Montague established the old D. Napier & Son Limited as a Private Limited Company taking all the shares and holding the position of sole governing director.  At that time hey produced models of car fitted with shaft-drive on the three larger models and produced a four-cylinder bus chassis with three-speed gearbox.  Commercial vehicle models were produced in a bigger way, and from 1912 a separate department was formed to deal with these.
1907 1,200 people were employed and were making about 100 cars a year.
1913 Following a dispute with Selwyn Edge, Napier bought Edge's distribution and sales company. Production rose to around 700 cars a year with many supplied to the London Taxi trade.  The same year the business became a public company
1914 D. Napier and Son Ltd, 14 New Burlington St, motor car makers, and Acton Vale; patent coin weighing and classifying machine maker, motor engine and wagon maker.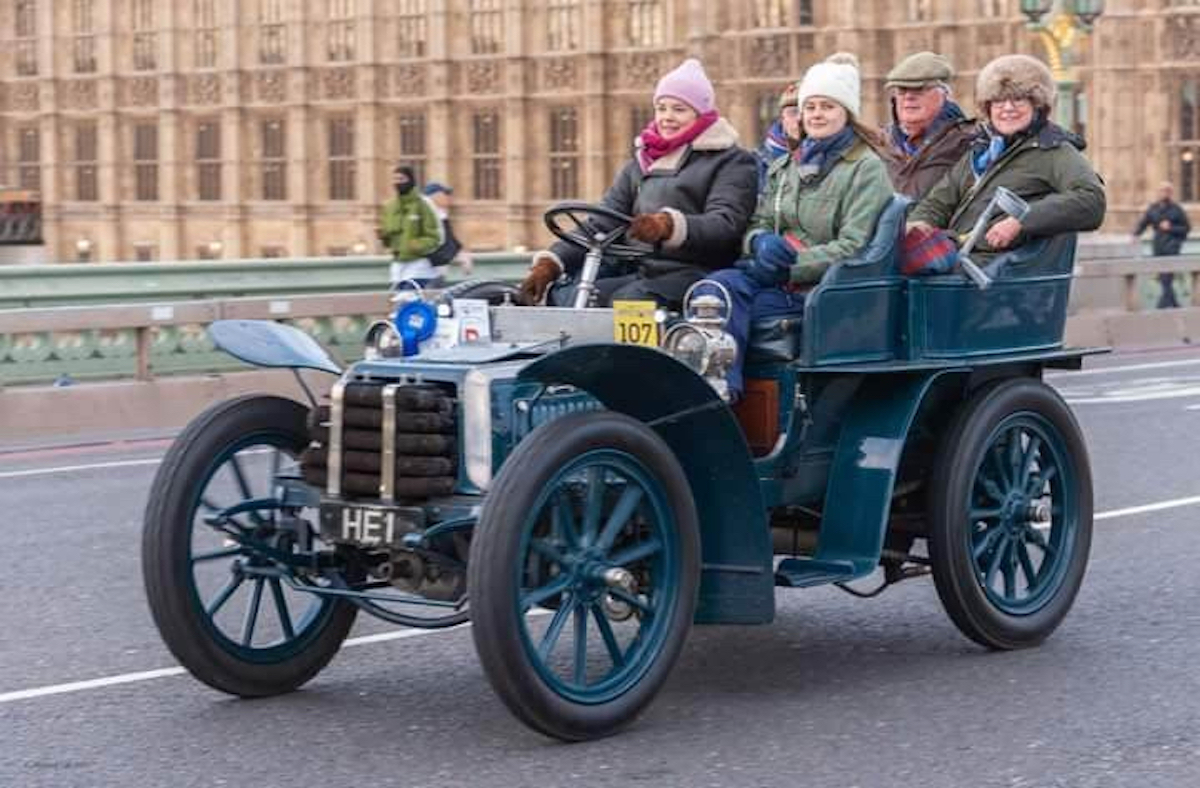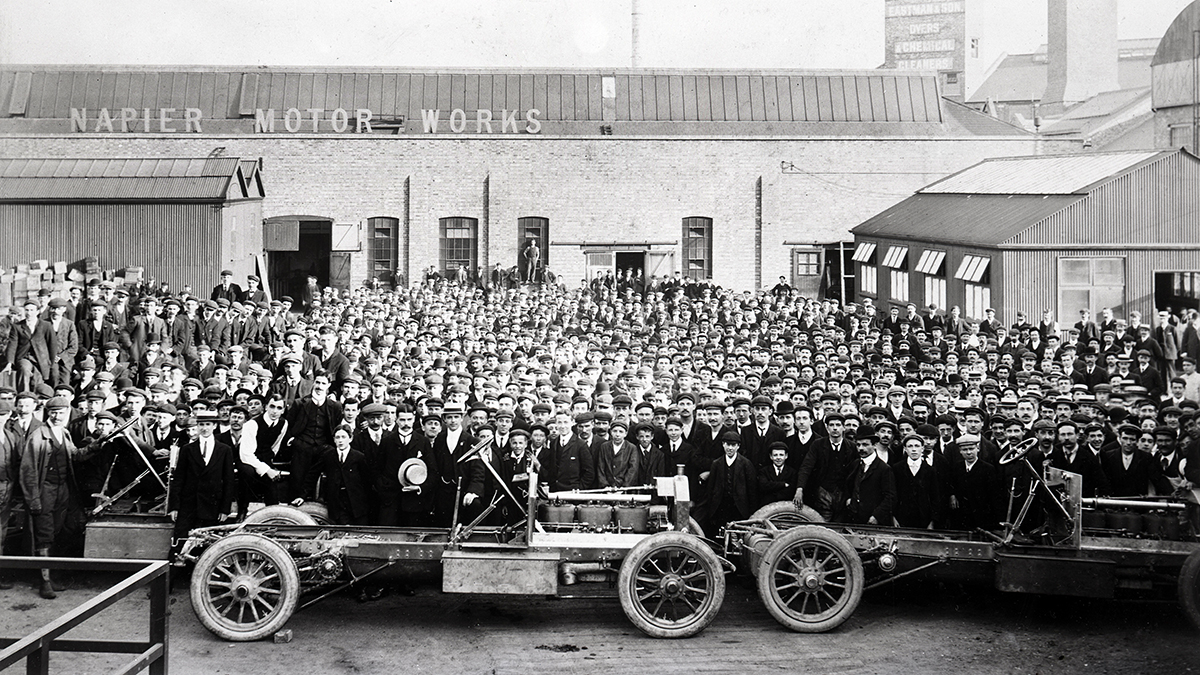 WW1 
Early in World War I, Napier was contracted to build aero engines from other companies' designs: initially a V12 Royal Aircraft Factory model and then Sunbeam Arabs.  Both proved to be unreliable so, in 1916, Napier decided to self-finance his own instead, the 12-cylinder Napier Lion. The Lion went on to be used in the 1920s to win the World Land Speed Record in Malcolm Campbell's Bluebird and Henry Segrave's Golden Arrow.  Vehicle production continued and 2,000 trucks and ambulances were supplied to the War Office.  Montague Napier's health declined and in 1917 he moved to Cannes, France, but continued to take an active involvement in the company until his death in 1931.
1919 civilian car production re-commenced with a 6 litre six-cylinder car, the T75.  These were very expensive, costing about the same as a Rolls-Royce Silver Ghost.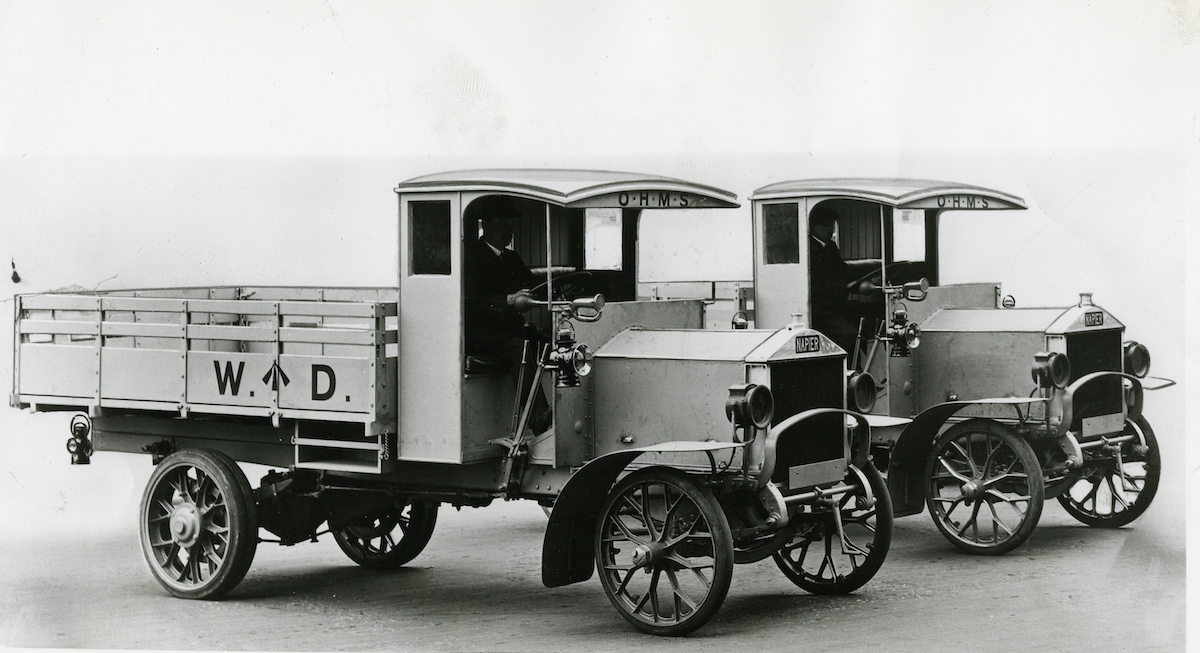 AERO ENGINES
Car sales declined as the Company concentrated on aero engines, the last cars were made in 1924.
In 1931 an attempt was made to buy the bankrupt Bentley Company however Napier was outbid at the last minute by Rolls-Royce.  The Company developed a three-wheeled mechanical horse which the new Napier management decided to sell it to Scammell who built several thousand.  During the 1930s the popularity of the Lion declined as competitors produced more powerful engines.  Napiers designed the Napier Cub, the worlds first 1,000 HP aero engine, to power bombers however the Air Ministry declined to purchase it in favour of a new policy of having multi-engined aircraft.
Napiers employed the services of Frank Halford to create new designs including the 16-cylinder, Napier Rapier and 24-cylinder Dagger, both air-cooled H-block designs.  Only the Dagger was moderately successful being fitted into Hereford bombers which saw use early in WWII.
Napier started work on a 24-cylinder diesel aero engine (a precursor to the Napier Sabre) but the Air Ministry asked Napiers to produce the Junkers Jumo 204 6-cylinder opposed piston diesel engine instead.  Napiers only produced seven examples of their Napier Culverin before the war, they also had the licence to build the smaller Junkers Jumo 205, named the Napier Cutlass, but these were never produced.
WW2
The 'H' section 24-cylinder diesel was redesigned as a sleeve valved petrol design known as the Napier Sabre.  A shadow factory was built on the East Lancashire Road in Liverpool to produce the engine.  Development problems meant that it took until 1944 (and the Company takeover in 1942 by the English Electric Co.) for the engine to be considered reliable.  The Sabre VII delivered 3,500 hp and was the most powerful piston engine used during the war powering the Hawker Typhoon and Tempest.  The Company also marinised the Lion aero engine becoming the Sea Lion, which could deliver 500 HP and used in Air Sea Rescue Launches.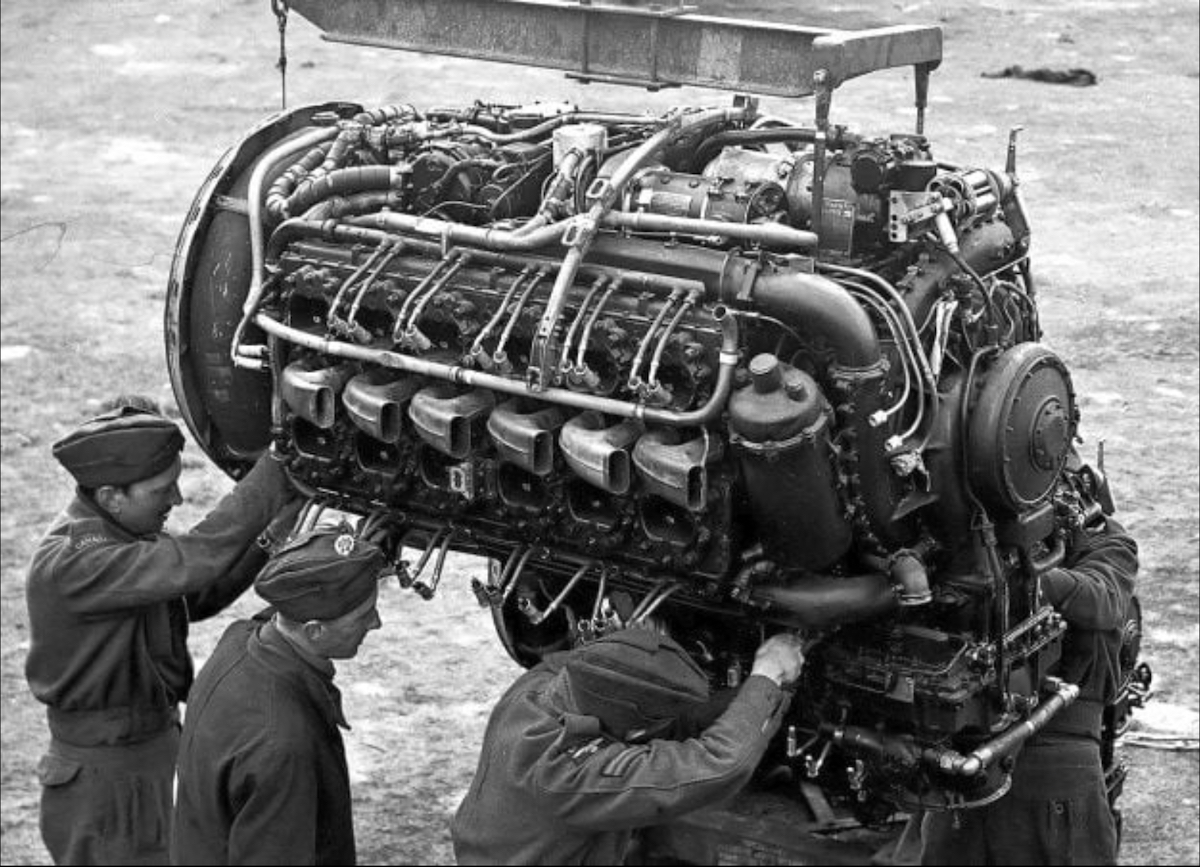 POST WAR
In 1946 Napier won a contract to design and build a diesel engine for the Royal Navy.  They designed the Deltic that was effectively three Culverins arranged in an equilateral triangle.  After the war Napier aero engine work concentrated on gas turbines commencing with the Napier Nymph and Naiad.  The Napier Nomad was a compound engine design utilising the Naiad turbine and new diesel engine.  Despite this complex design the engine had very good fuel economy having the best specific fuel consumption of any aircraft engine even today.  Regardless of this the greater reliability and simplicity of jet engines meant that the project was abandoned.
During the War Napier also had a base at Luton Airport used for Flight Development.  This site grew and became involved in the development of rocket engines and de-icing systems.  Derivatives of the Napier Spraymat de-icing system are used on all types of aircraft today including the Boing 787 Dreamliner.  The Luton business and site is now GKN Transparencies.
During the 1950's the 3,500hp Napier Eland and 1,350hp Gazelle did better.  The Eland was exported successfully to the USA being fitted in a fleet of Convairs whilst the Gazelle powered the Bristol Belvedere and several versions of the Westland Wessex helicopter.  The Eland was also flown in the unique Rotodyne helicopter in the late 1950's.  Meanwhile the Deltic engine went from strength to strength being fitted in the RN Dark Class MTB and Ton class minesweepers as well as the Deltic prototype railway locomotive.
TAKEOVERS
In 1962 Rolls-Royce took over Napier's aero-engine business and continued to market the Gazelle but dropping everything else.  The development and production of Deltic engines continued with them being fitted in British Rail's Type V (Class 55) locomotives to huge effect.  A turbocharged version of the Deltic was sold to the Norwegian Navy being fitted in their 'Nasty Class' MTB's.  This successful combination of hull and engine produced further sales of engines to the USA for fitting in their version of the vessel.  By the end of 1966 Napier's Liverpool Works had manufactured its 500th Deltic.  This engine is now the most long-lived engine produced by D Napier & Son Ltd. and only now being replaced by a modern design fitted in the RN Hunt Class MCMV.
In February 1967 DNS had 1,632 employees spread between its Acton and Liverpool sites.  Its parent company, English Electric, was amalgamated with Weinstock's GEC in 1968.  This resulted in the Acton site being finally closed in 1969.  Deltic and Napier turbochargers production continued in Liverpool as part of English Electric Diesels.  By 1970 English Electric's diesel engine business was being centralised in Colchester at their Ruston Paxman factory with the Deltic becoming a Paxman product.  Turbocharger production was transferred to GEC's site in Lincoln where it continues today.  The Napier name continued however the name D Napier & Son finally vanished when the business name was changed to Napier Turbochargers Ltd on 16th December 1974.
TODAY
After a roller coaster of takeovers and name changes, Napier Turbochargers Ltd still exists as part of the American Wabtec organisation and still produces products using their Napier name.